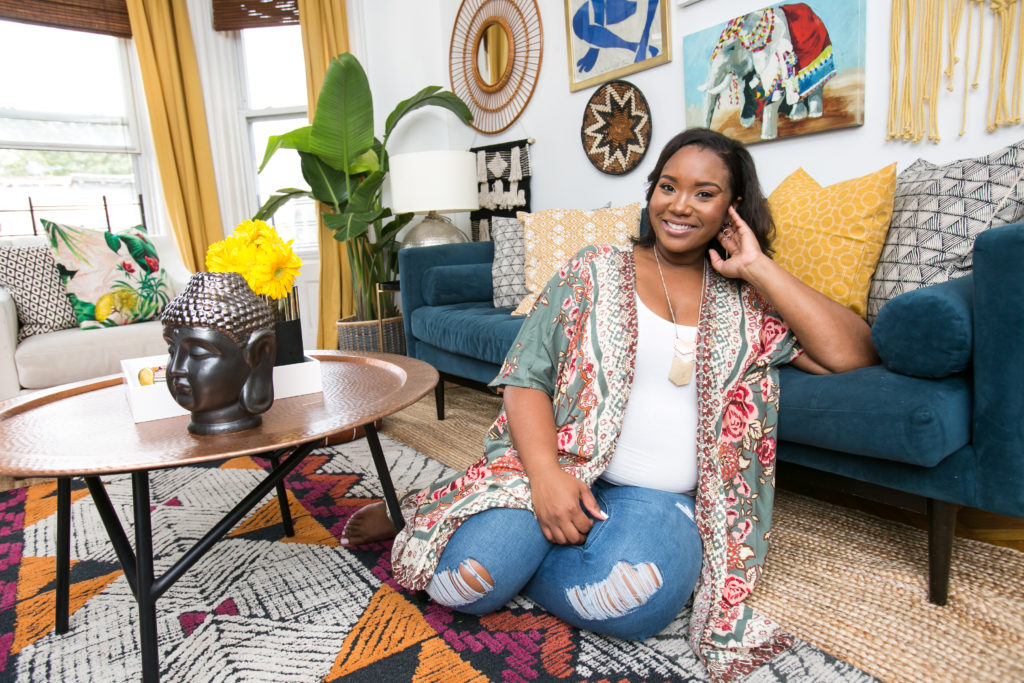 I'm super pumped today because I'm finally sharing my home tour with you. Our place has gone through so many changes over the years simply because I am ALWAYS switching stuff up.  Up until this year, I couldn't even make a decision on what look I wanted….although I knew I wanted our space to feel organic to who we are as a family.
I've always had eclectic taste, and nobody loves color more than I do! After doing tons of research and collecting a few statement pieces….it all came together. This project was a labor of love mainly because I was carrying our new baby boy. I won't lie. Some things were physically challenging, but I fell in love with the change happening within me and around me.
So before I reveal all of the fabulousness that's going on in my home, it wouldn't be right if I didn't show some love and appreciation to my best friend/manager Ashley J. She helped with coordinating everything and has been an overall great person to my family and me. She was responsible for finding my dope photographer, JJIgnotz. Thank you, Ash, we love you much.
Now, it's time to get to the meat and potatoes of it all.  Let's pour out some liquor for the old space ya'll.  P.S. I'm cringing a little over how bland these "before" pics are.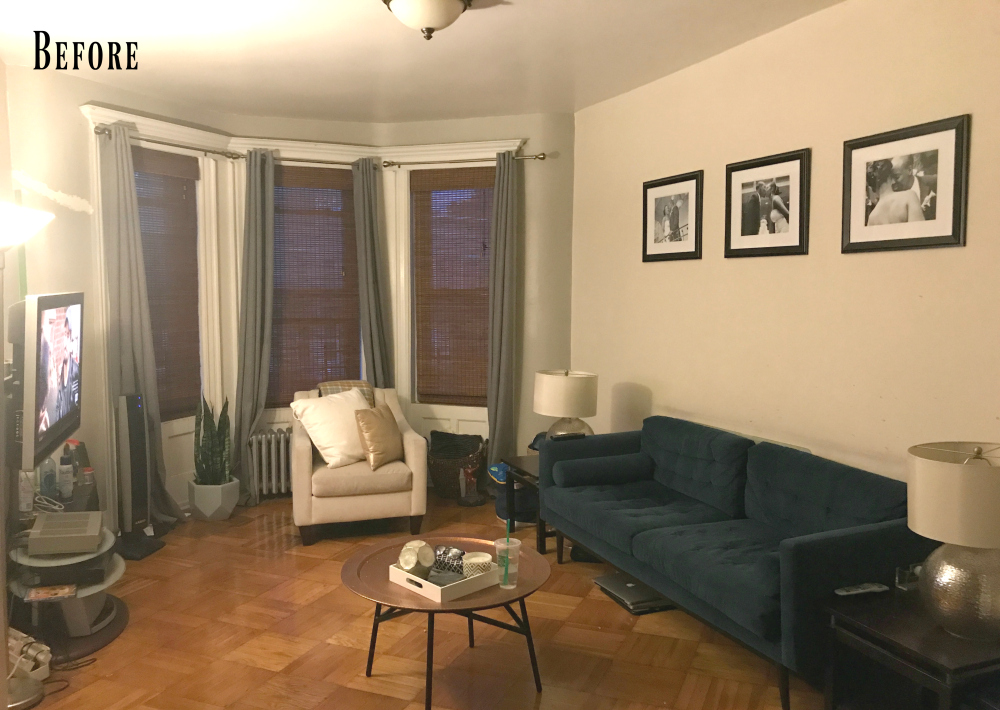 BOOM!!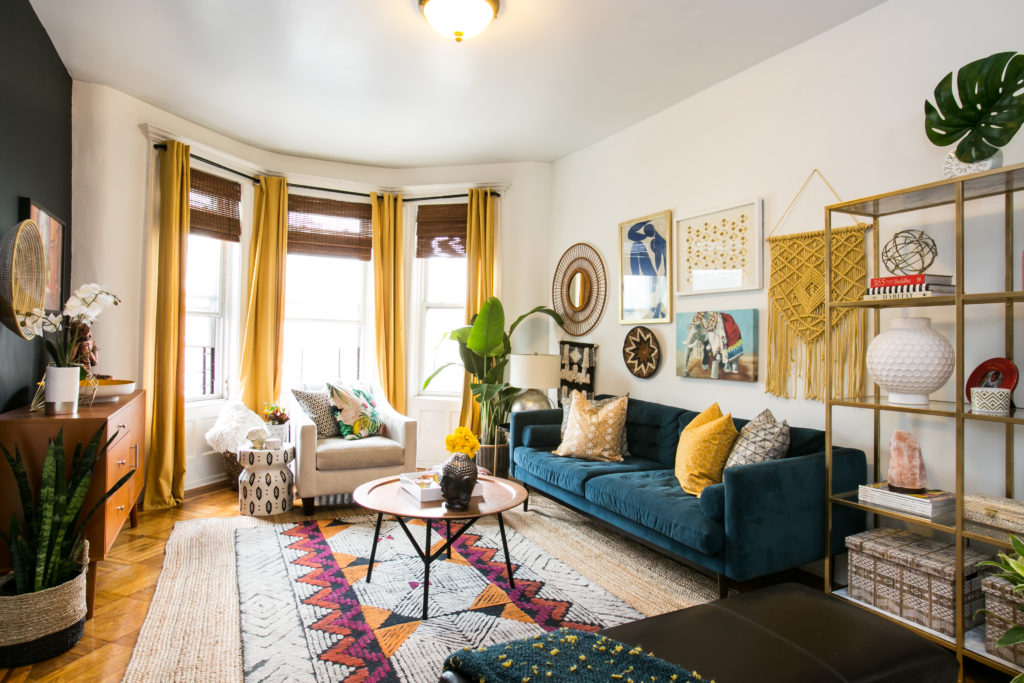 I painted the walls "Decorator's White" by Benjamin Moore and "TriCorn Black" by Sherwin Williams. After that, I just went color crazy throughout the entire space.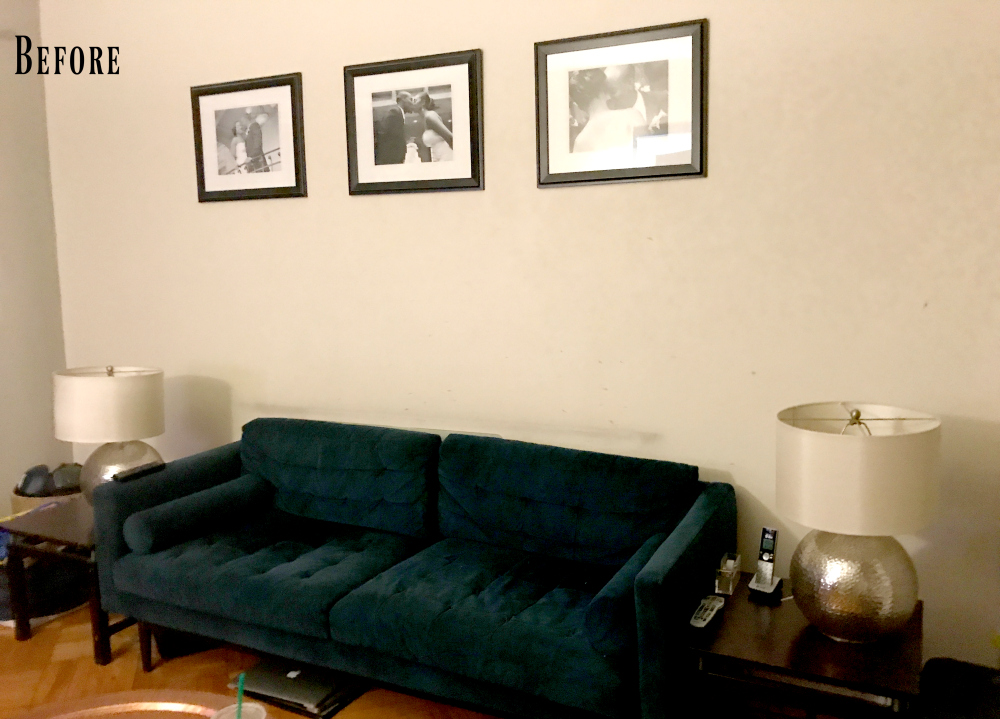 When I bought this West Elm Sofa, it was love at first sight. But the rest of the living room was still blah…until now.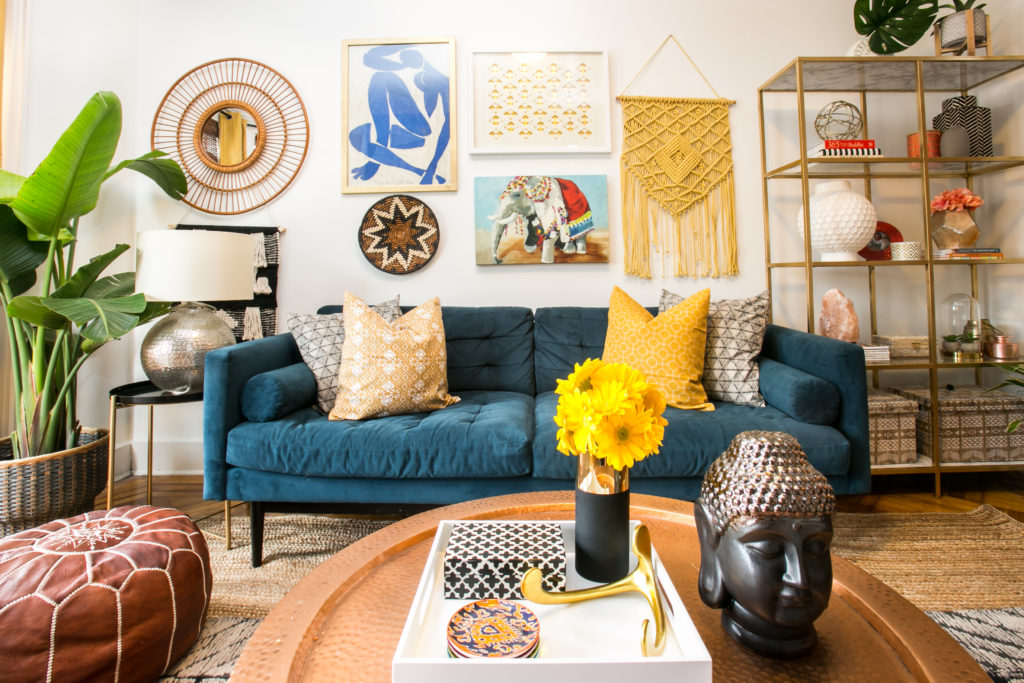 I finally have some shelves that I can use to secretly store legos and stash some magazines. Again, I love the colors used throughout. It's so much more inviting and electric – just the way I envisioned it to be!
As a family, we spend most of our time in the living room and dining room. I'm also in the office every day, so it was really important that I made sure our home fits our lifestyle. Ok, I'll just stop typing now and get on with the tour.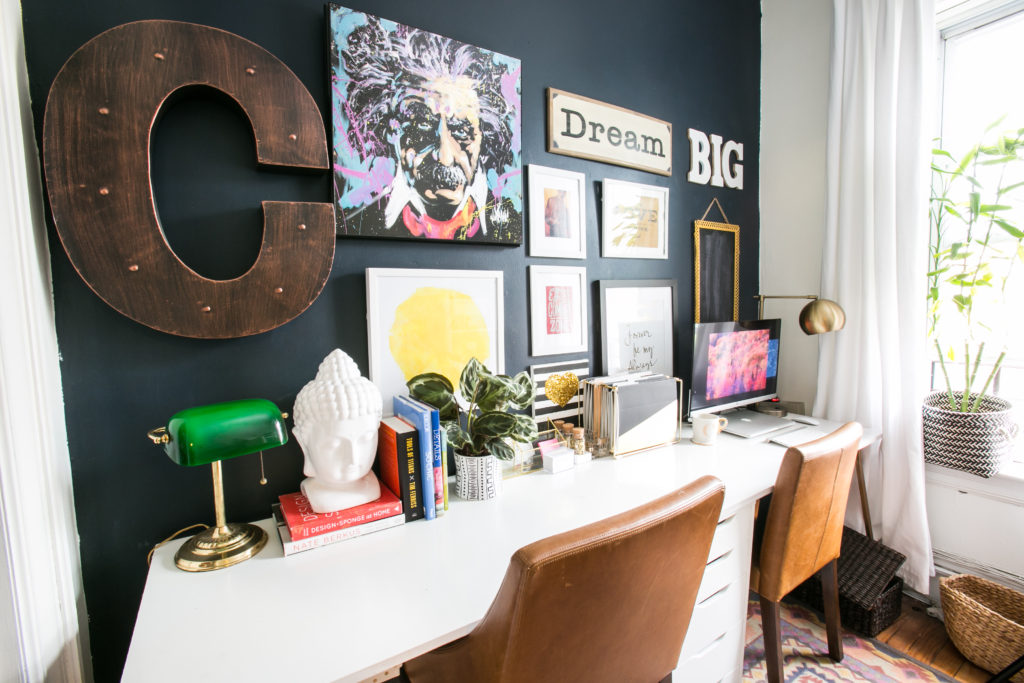 I made this desk because it was the only functional way to make our small office work.  My husband's side is on the left, and my side is on the right. That said, my six-year-old is usually in here with me.  Only washable markers are allowed!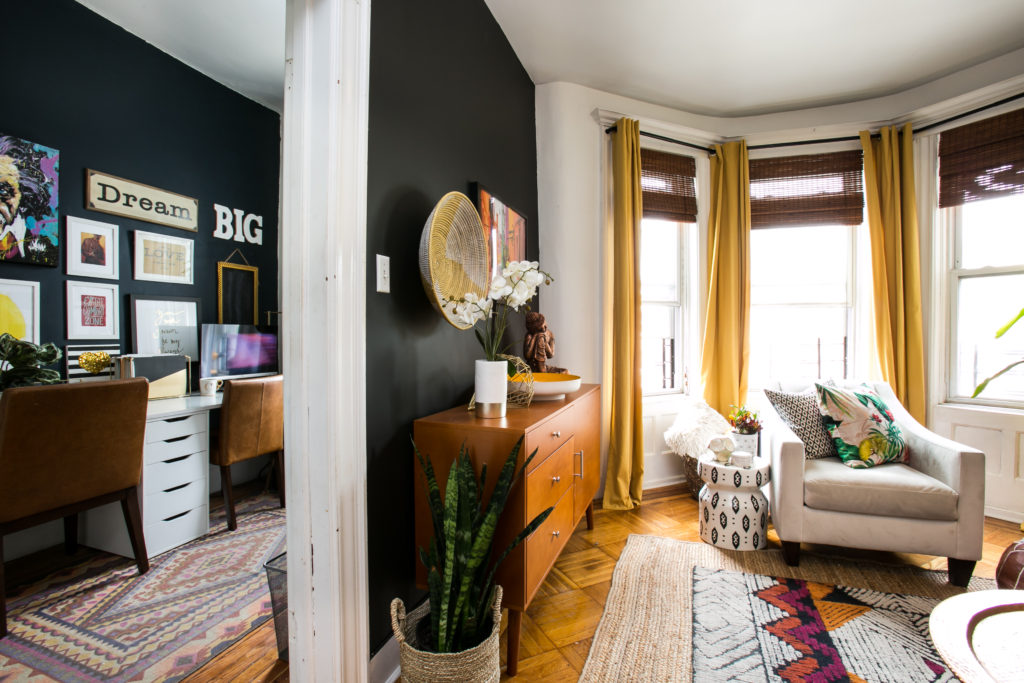 JJ Killed it with this shot. My office is adjacent to the living room, and the living room has a black wall, but the office has a dark blue wall. Check out how well they look together.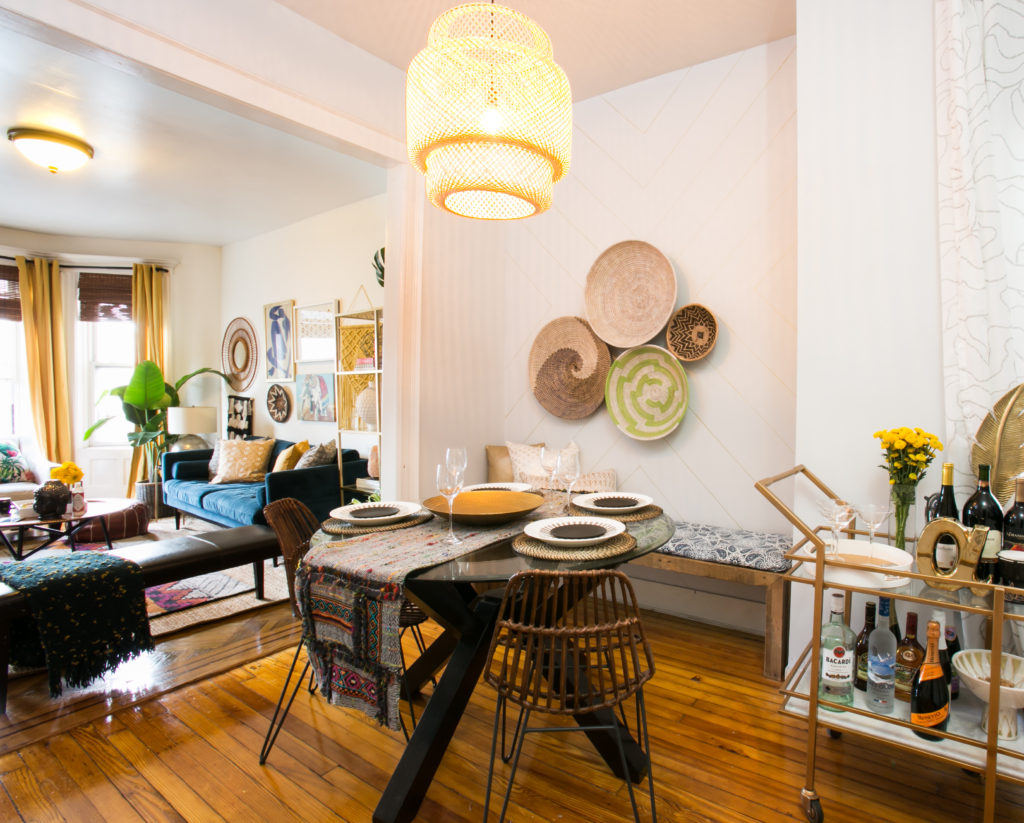 Our dining room is pretty small, but we've worked with a banquet style bench, flanked with two rattan chairs.  This room is still transitioning. I may finish it off with a rug and splash that wall with black paint.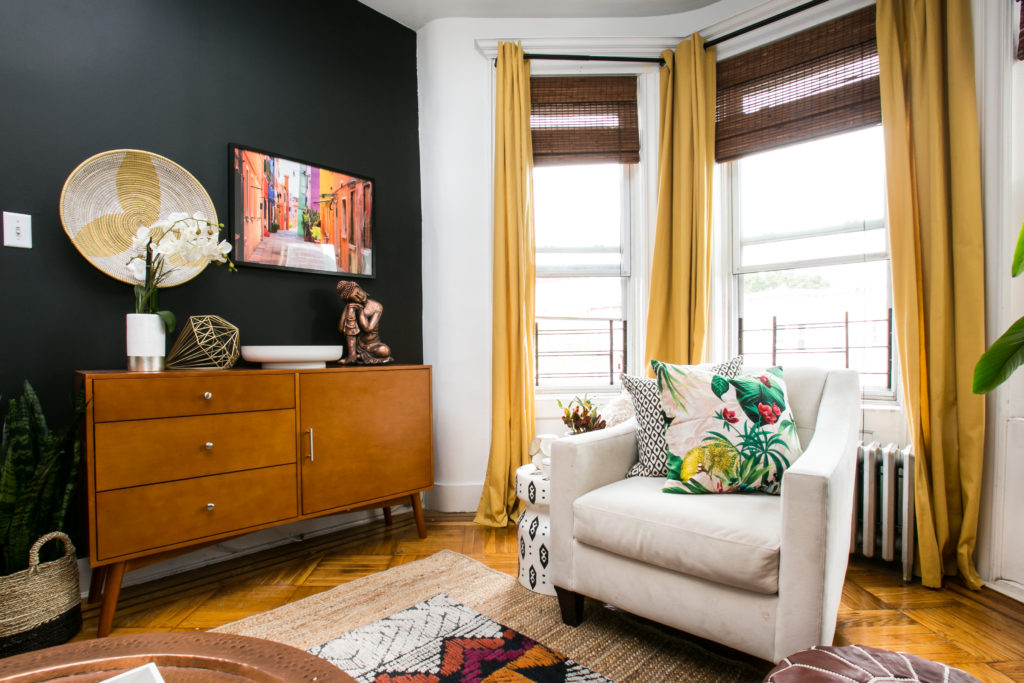 The bay windows in our living room are one of my favorite features of the house. They let in a lot of light, and during the summertime, it's the best seat in the house. I also needed storage for our board games and gaming consoles, so I got this All Modern wooden storage unit. It fits perfectly and looks so bomb against the black wall.
I hope you enjoyed my home tour and are inspired to take on a little tweaking of your own. The holidays are almost here, so I'll be switching up decor stuff and joyously decking the halls.
Thanks for stopping by. Now that life has settled down a bit; I promise you'll be seeing a lot more from me.  I'm here to stay this time. Muuah!